The Wilhelm und Else Heraeus Autumn School "Global Gravity Field Modeling from Satellite-to-Satellite Tracking Data" was held from October 4 - 9, 2015 at the Physikzentrum in Bad Honnef, Germany.
It offered the opportunity for PhD students and young researchers to enhance their knowledge in the field of satellite gravimetry. The school taught different approaches for recovering the Earth's gravity field from satellite-to-satellite tracking data.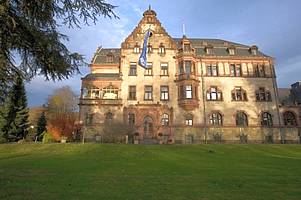 The 5-day programme included morning theory lectures on core topics taught by international experts in the field, as well as intensive afternoon computer exercises in groups on gravity field determination. Evening talks highlighted the latest progress in space geodesy and sensor systems as well as relativistic geodesy.
The international autumn school was generously funded by the Wilhelm und Else Heraeus-Stiftung.
Lecture notes: Naeimi M. and Flury J. (Editors) (2017): Global Gravity Field Modeling from Satellite-to-Satellite Tracking Data, Lecture Notes in Earth System Sciences, Springer
DOI: 10.1007/978-3-319-49941-3, ISBN: 978-3-319-49941-3