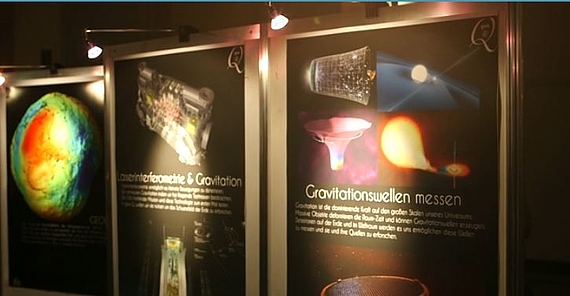 On the Day of Relativity on November 25, 2015, the 100th anniversary of the publication of the Theory of Relativity, at a joined performance in the Lichthof at Leibniz University Hannover, scientific talks, art performances and exhibits came together in a colourful mix:
Q['kju:] Deformation von Raum und Zeit
Ein Parcours zwischen Kunst und Wissenschaft
PROGRAM:
Sensorium Gottes oder relative Ordnung der Dinge? Prof. Wenchao Li
Dornröschen – Gravitation und Schlafen Mathias Max Herrmann
Präzisionsmessungen der Gravitation Prof. Dr. Jakob Flury
Wie Laserinterferometer Satelliten verbinden Prof. Dr. Gerhard Heinzel
Foreboding Thorsten Encke / musica assoluta
Faszination Relativistische Geodäsie PD Dr. Christian Lisdat
Podiumsdiskussion "Kunst & Wissenschaft" Moderation: Julian Klein

EXHIBITS:
Hommage an A.E. Georg Klein
Kosmische Landschaft Till Krause
Die Vermessung der Zeit Dirk Peuker u.a.
Wie lang ist das Jetzt? Susanne Bayer
A video of the event is available at wissen.hannover.de.
Please also check out Walking through Einstein's Space-Time.